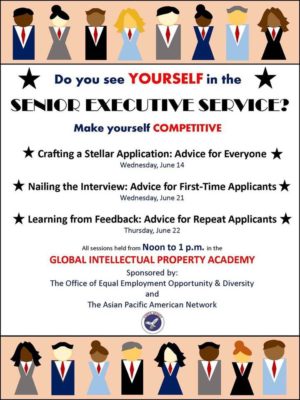 Our office has partnered with the Asian Pacific American Network (APAPNET) for a series of information sessions for those aspiring to the Senior Executive Service (SES). The first session is next Wednesday, June 14th,  featuring an expert from the Office of Human Resources providing an overview of the SES, and how to apply. The following week, attendees can choose to attend one of two panel discussions:
"Nailing the Interview: Advice for First-Time Applicants"  Wednesday, June 21
Panelists Andrew Wang, Robin Evans, Gladys Corcoran, and Jerry Lorengo will discuss work-life balance as an Executive, getting the experience you need to be competitive, and knowing when you're ready to apply.
"Learning from Feedback: Advice for Repeat Applicants"  Thursday, June 22
Panelists Remy Yucel, Greg Vidovich, Wanda Walker, and Seema Rao will discuss the importance of asking for honest feedback and cultivating a personal brand to help you stand out in your interview.
All sessions will be held in the Global IP Academy (GIPA) from 12-1pm.