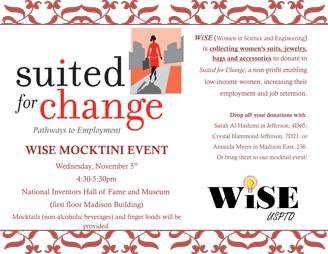 Hello,
I wanted to invite you all and your members to a charity event we are having next week.
The event is free and should be a good networker with leadership within the office. Additionally, we are collecting gently used or new women's suits, jewelry, bags and shoes to help Suited for Change, a wonderful organization helping disadvantaged women get into or back into the workforce by providing them with professional attire in addition to many resources for supporting their transition to a job or career. A representative from the organization will be in attendance to talk about the business incubator they have launched, supporting the entrepreneurial efforts of some of their clients.
Hope you can join us!
Best,
Sarah Al-Hashimi
President of WISE