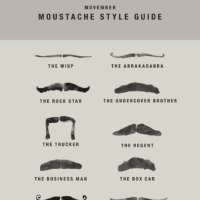 Men die on average six years earlier than women. But you can be the difference, and help us change this startling stat. It's time to join the movement. Get involved with the only global charity focused solely on men's health, the Movember Foundation.
THE MOUSTACHE IS OUR RIBBON
A little facial hair goes a long way. More than just follicles on your face, your Mo is a ribbon – reminding the people in your life of the importance of men's health.
Sign up for a Challenge
Instantly connect to people with similar interests – helping you stay motivated throughout the month. We've got Banking Challenges, Legal Challenges, Cricket Challenges… the list goes on.
Move for men's health
Whether you have the ability to Grow a Mo or not, it doesn't matter. Get involved in Move – and you can raise funds by doing just that. It's as easy as walking, running, cycling, swimming or rowing towards a distance target. Just log in to set your goal.
Wise-up on fundraising
Our experts have a long list of fundraising tips guaranteed to help anyone go from Mo Novice to Mo Legend. Upload a profile picture to help supporters feel they're part of your journey. Try a weekly progress update to potential donors. For more, check out the 'Fundraising tips' section of your Mo Space.
Get smart (with your smartphone)
With new-and-improved Movember apps on iOS and Android, raising funds to has never been easier. Share your profile, recruit friends, check your tally and more with a tap or two. If you haven't got it already, go to your app store to download it now.
Take advantage of our downloads
Hit print on posters, donation cards, certificates, calendars and more in the 'Downloads' section of your Mo Space. These swanky tools will help you get the message out in your office, at the gym, in school – wherever you Mo.