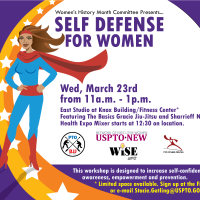 The Women's History Month Committee presents, Self Defense for Women.
Wednesday, March 23rd from 11a.m. – 1p.m.
East Studio at Knox Building/Fitness Center*
Featuring The Basics Gracie Jiu-Jitsu and Sharrieff Nashid. Health Expo Mixer starts at 12:30 on location.
This workshop is designed to increase self-confidence through awareness, empowerment and prevention. * Limited space available. Sign up at the Fitness Center or e-mail Stacie Gatling.